Vending Machine - SLOT PROTECTOR
[Category : - MECHANICAL ENGINEERING - OTHER]
[Viewed 1223 times]



A patented "coin-slot [entrance] protector" for protecting coin-operated devices, vending machines, payphones, slot machines and parking meters from coin-slot theft or vandalism from forcing wires or objects into and through the coinslot... The stainless steel "COINGUARD", fastens over the coin entrance with bolts or rivets and combines a dual restriction coin passage where the coin is manually shifted laterally before rolling down an internal ramp into the coin path... The coins are freely passed but the patented combination of dual, conflicting restrictions allows the passage of ONLY round flat coins... The coin-slot protector prevents theft, vandalism and internal damages through the coin-slot by preventing the insertion of any continious objects like wires or blade-like objects... Vandals typically stuff the "unprotected" coin entrances with paper or plastic to stop the coins [part way down the coin chute] then return to use stiff wires to extract the coins or jam heavy wires or blades down the coin path to force the collected coins into the return chute.... Robbing the machine, damaging delicate coin mechanism and putting the device out of order! .. "Coinguard" prevents slot wiring with coat-hangers PERIOD.... A street proven product, "COINGUARD" STOPS coin-slot theft, vandalism or damage. Over 300,000 units have been sold for $19.95 each. Owner retiring, now needs a more aggressive owner and distributor with ambition and comittment to raise vending protection to the next level. Expansion into general vending and parking meters, payphones, etc world wide! On the German Autobahn fuel stops they have completely converted to VENDING MACHINES [no employes]. Vending is one of the few continuing growth areas in the 1st and 3rd world. There are over 200 million parking meters, payphones and vending machines world wide,,,,a ready market!! Please review coinguard at the website http://www.coinguard.com and the USPTO patent using the number below... Own the entire business, trademark, domain name, website, stock and patent for $250,000 a small fraction of its future earnings. Have your own complete, growth business. Manufacture and distribute your own proven, patent protected, high profit margin, multiple product line. A perfect on-line, world-wide business... E-mail: wtmd@mail.com

Economic and financial information

License or sell patent.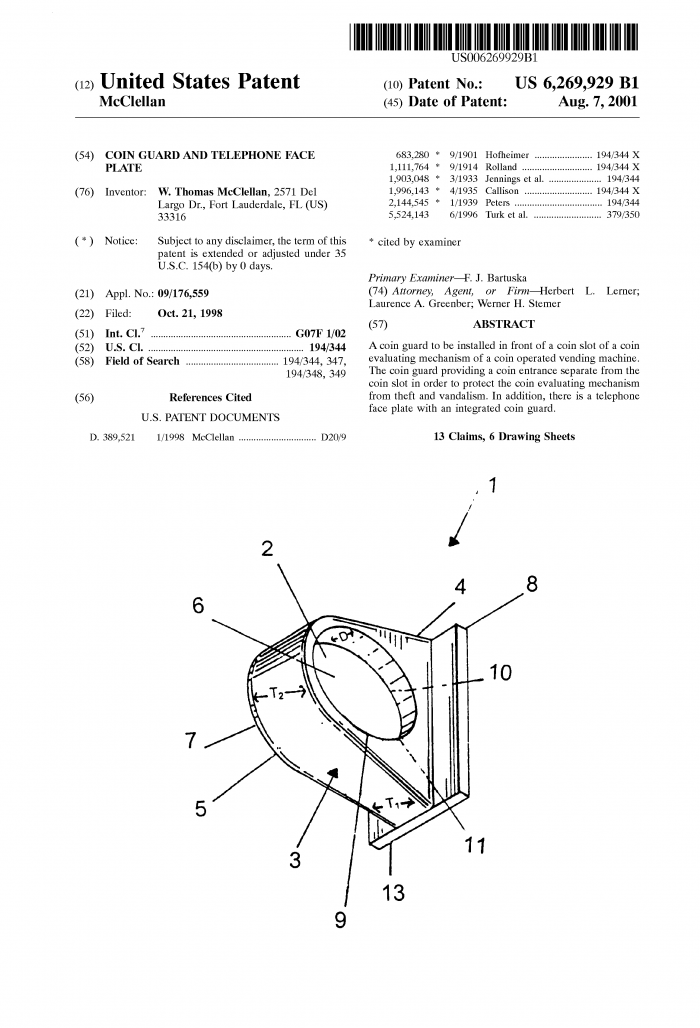 [ Home | List a patent | Manage your account | F.A.Q. | Bookmark this page]