Corrective sandal - Female foot pain & 1st toe deformity
[Category : - MECHANICAL ENGINEERING - HEALTH]
[Viewed 1058 times]



US Patent 7,596,887 A corrective sandal or shoe to prevent, reduce, improve and correct the foot deforming effects of chronic high heel shoe wear and to reduce the resultant acute and chronic foot pain. The surfaces and corrective elements provide equalized corrective pressures without concentration on the heel or balls of the foot and without exaggerated arch support. A traction system provides corrective lateral first toe traction without foot rotation. A heel support on the upper surface interacts with the elevated fore-foot and securing system to eliminate toe gripping and foot strain. An elevated and rounded dome under the balls or main tarsal joint of the foot provides a descending slope or dome to support, "spread" and downwardly deflect the toes and reverse the extreme dorsal-flexing of high heel shoes. The elevated forefoot angulation provides for elevation and stretching of the plantar fascia, Achilles tendon and relaxation of the arch. A rocker bottom is provided under the toe area for correcting the load bearing from the balls of the foot back to the heel. Daily wear immediately reduces foot pain, strain and gradually reduces, prevents or improves the foot deformations of chronic high heel shoe wear. All the crushing and destructive imputs of "high heels" are halted and countered. The world's ONLY patented "corrective shoe or sandal" for "THE WORLD'S MOST COMMON ADULT FEMALE FOOT DEFORMITIES". IF you MUST work in high-heels, then play and relax in these. Rid yourself of foot pain and the high heel deformed, "ugly", painful feet. Please review the complete description at the USPTO with the application number below and download the free TIFF viewer for full images. The drawings are academic and only to defend the corrective action surfaces, the sandal or shoe can be made more attractive, with much design latitude. Manufacture the only functional, ergonomic shoe or sandal designed by a physican epecifically for women [to help themselves] to combat the most common cause of foot distortions, deformities and foot pain in the world. License to manufacture for a % of net sales or purchase all patent rights for $159,000. Questions, comments are invited... E-mail, wtmd@mail.com

Economic and financial information

License or sell patent.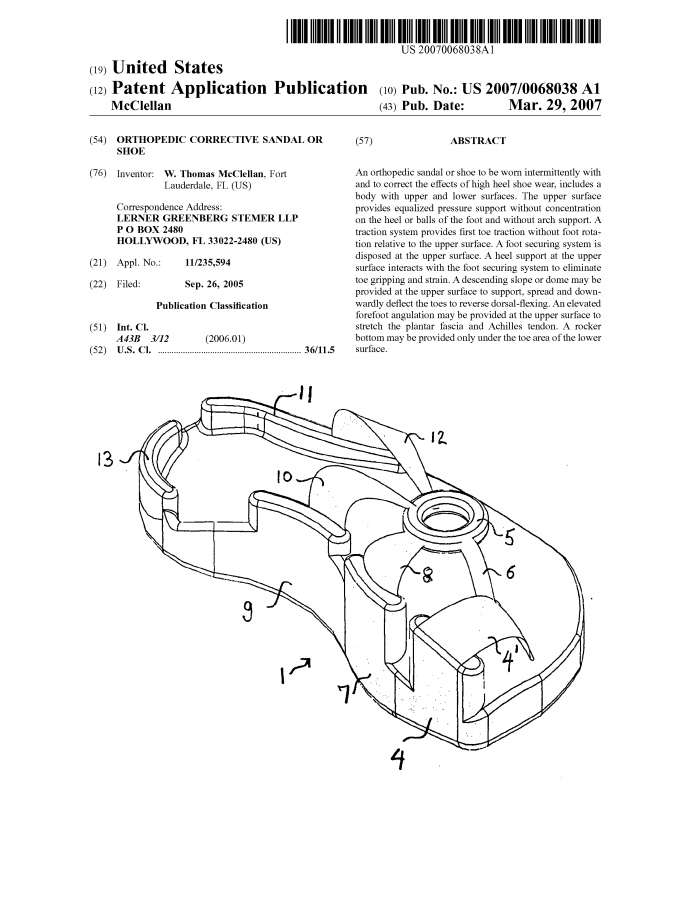 [ Home | List a patent | Manage your account | F.A.Q. | Bookmark this page]