---
Home
List your patent
My account
Help
Support us
Contact us
---
INEXPENSIVE SUPERCONDUCTING CERAMIC ELECTRIC WIRE
[Category : - CHEMISTRY- ELECTRICITY & LIGHTING- RENEWABLE ENERGY]
[Viewed 292 times]
COST-EFFECTIVE TERMO-CHEMICAL NANOTECHNOLOGY FOR CONTINUOUS PRODUCTION OF INEXPENSIVE, RELIABLE AND FLEXIBLE SUPERCONDUCTING CERAMIC MULTI-STRAND ELECTRIC WIRE AND OTHER LEADS.
.
32 years ago, the Nobel Prize in Physics recognized discovery of High Temperature Superconductor (HTS) ceramic particles that at easily achievable cryogenic temperature can transmit without heat losses enormous amount of electric current. The major Electrical Engineering material is copper electric wire. Meanwhile, until now developing 1G and 2G HTS electric tapes are not yet on the open market since they require high capital cost and unavoidable have usability, quality and reliability drawbacks. These developers (mostly physicists) mistakenly process HTS ceramic powder using inappropriate Mechanical Engineering methods.
In contrast with them, we applied Chemical and Ceramic Engineering and patented (four US patents), in-lab approved at Polytechnic University, NY feasibility of inventions, published (14 publications) and presented at 15 professional meetings (at the American Ceramic, Chemical Engineering, Mechanical Engineering, Materials Research, NSTI Nano-Tech and New Jersey Technical Council societies) a complete engineering set of our paradigm-shifting innovation comprising of four original (new) components:
a) initial material composition, as suspension of superconducting ceramic nano-powder, silver powder additive and silicone polymer emulsion in toluene solvent;
b) polymer chemistry and ceramic engineering nanotechnology as original consequence of technological operations with original parameter levels;
c) a method and parameters of thermo-chemical self-sustainable process and quality control of the invented nanotechnology making invented 3-D superconductive nano-architecture of the full dense sintered micro- and macro-ceramic leads with uniform inter-grain superconductivity;
d) a set of advanced and very marketable products, first of all, inexpensive superconducting wire strands that shall advance Electrical Engineering Industry and all electrical energy related economic of the US and worldwide.
Now we sell or license a family of the US Patents including
A) Two major Patents:
1) Rokhvarger, A. E. & Chigirinsky, L. A. "Sintered Ceramic Composite Lead with Superconductive Nano-Architecture", US Patent #7,632,784, December 15, 2009, 7 claims & 9 drawings.
2) Topchiashvili, M. & Rokhvarger, A. "Method of Conveyor Production of High Temperature Superconductor Wire, and Other Bulk-Shaped Products Using Compositions of HTS Ceramics, Silver, and Silicone", US Patent # 6,010,983, January 4, 2000, 32 claims & 3 drawings.
B) Two "expired" patents (we didn't pay their maintenance fees in 2013 and 2015) were issued by the USPTO in continuation of the Patent # 6,010,983:
1) Rokhvarger, A. E. & Topchiashvili, M. I. "Superconductor Composite Material", US Patent #6,617,284, Sept. 9, 2003, 10 claims, no drawings.
2) Topchiashvili,M. & Rokhvarger, A. "High Temperature Superconductor Composite Material", US Patent #6,239,079, May 29, 2001, 18claims & 2 drawings.
C) We also registered two International patent applications:
1) Rokhvarger, A. E. & Chigirinsky, L. A. "Sintered Ceramic Composite Lead with Superconductive Nano-Architecture", International Patent Application, submitted 4/16, 2005, PCT/US2005/012942; International Publication # WO/2006/076002; 7 cl. & 9 drawings. (Patented in Australia and filed in Europe and Japan)
2) Topchiashvili, M. I. & Rokhvarger, A. E."High Temperature Superconductor Composite Material and Method of Producing a Product from the Material", WO 01/41227 A1, Publication Date 7 June 2001 (International Filling Date 6 Dec 1999); PCT/US99/28917, 09 Feb. 2000, 37 claims and 2 pp. drawings.
Invented Chemical Ceramic Engineering technology of 3G HTS electric round wire processes plurality of initial HTS ceramic nano-powder and consists of:
1) Thermo-chemical nanofabrication of full dense sintered 3G HTS macro-ceramic material with self-assembled honeycomb-like nano-architecture, where ceramic crystal grains surround (caged by) glass films and silver dots. These result in inter- and inner-grain uniform superconductivity of macro-ceramic leads;
2) Production of flexible 3G HTS ceramic wire strands, where metal substrate strands dip adhesion coated by HTS ceramic suspension with further thermo-chemical nanofabrication of integral and 10 micron thin (and therefore, flexible) 3G HTS ceramic layer; and
3) "[Metal substrate strand reel] – to – [HTS strand reel]" conveyor production line to continuously manufacture 3G HTS round strands that can be twisted into multi-strand electric wire or cable with required electric current carrying capacity.
3G HTS strands at easily achievable LN temp-re can carry with insignificant heat losses electric current density J = 10kA/cm2 while copper wire at room temp-re is used with electric current carrying capability J = 0.2kA/cm2, which is 50 times less. Meanwhile, at room temp-re, 3G HTS strands can transmit 2 – 3x more electricity than copper strands of equal diameters.
Full dense sintering process provides integral, continuous and uniform 3G HTS ceramic coating layer of the strand to efficiency transmit electric current. Sintered 3G HTS ceramics are permanently reliable and durable in air or LN coolant ambience.
.
Claim 4 of our US Patent # 7,632,784 teaches production of HTS strands with NiCr-metal substrate strands. This is the major subject of our selling/licensing efforts.
.
Additional Technical Advantages of 3G HTS Wire
1. In contrast with a tape form wire, round form of 3G HTS strands and multi-strand wire are usable and efficient for cables as well as for coils of electric motors, transformers.
2. Open surface contacts of round 3G HTS strands allow compensation of the breaches of superconductivity in neighbor strands, which assure reliability of the multi-strand wire or cable.
3. Surface contacts allow splitting connection/joining of pieces of multi-strand wires or cables.
4. Round form of HTS wires and cables makes easier design of their cooling systems.
5. The use of 3G HTS cables with their cooling jackets for nonflammable LN coolant (no cooling oil), 5x decreases width of high power cable underground tranches within towns or cities.
6. Permanent reliability of 3G HTS multi-strand wire and its Electrical Engineering applications.
Financial information
Our Patents teach cost-effective Chemical Ceramic Engineering technology to produce Superconducting Ceramic Electric Wire Strands that at liquid nitrogen temperature can transmit 50x more electricity, have 10x less cost/performance ratio, save 10% power and as usable, flexible, durable and reliable as copper wire strands at room temperature.
Using nano-size superconducting ceramic powders YBa2Cu3O7-x (YBCO), at Polytechnic School of Engineering at NY University (former Polytechnic Institute at Brooklyn NY) we produced and tested three types of formed and sintered High Temperature Superconductive (HTS) ceramic electric lead samples. There were: a) small disks, tablets, beams and on other substrates; b) substrate coated surfaces including printed schemes and c) NiCr-alloy strand substrates with dia.=0.04mm coated by sintered YBCO ceramics having the total dia.=0.06mm. These HTS strands at easy achievable liquid nitrogen (LN) temp-re can transmit electricity as copper wire with dia. = 0.5mm at room temp-re. These 3G HTS strands have 7 - 9x less cost/performance ratio than C/P for copper wire, and as usable, flexible, durable and reliable as copper wire.
.
Application of 3G HTS multi-strand electric wire would by 5 – 7x decrease cost, weight, diameter (size), and heat losses of electric cables, motors, transformers and generator rotors.
.
Production cost of 3G HTS strands with dia. = 0.06mm should be $0.6/meter and these strands at LN temp-re carry electric current, as does it copper strands with dia. = 0.5mm at room temp-re.
We made conceptual design (knowhow) of the fully mechanized and inexpensive "[metal substrate filament reel]–to–[3GHTS strand reel]" industrial conveyor line. The line should cost $2million and will manufacture 10,000km/year of 3G HTS elementary strands with dia.=0.06mm. There would be also produced continuous 3G HTS multi-strand electric wires and cables of any diameter and with required electric current carrying capacities.
Electric copper strand with dia. = 0.5mm costs on the open market $1.2/meter. At the attractive price $1.1/meter for 3G HTS strand with dia. = 0.06mm, production of 10,000 km/year-strands on $2 mill-cost typical technological line would bring plant owners $5 mill/year pre-tax profit with ROI = 250%.
The large industrial plant with 30 typical production lines will bring $150 million/year pre-tax profit.
The US Department of Energy (DoE) predicted worldwide annual market for reliable round HTS wire and its Electrical Engineering applications for cables, motore, transformers and generator rotors as $200 billion where electric wire comprises at least 40% the total end-product costs or $80 billion/year.
.
Broad use of our patented inventions on 10% would reduce heat electricity losses, which correspondingly reduces on 10% fossil fuel consumption for electricity generation and Environment worming.
---

Patent publications:

US 7632784

US 6010983
Asking price:

Make an offer


Rate this patent

Great invention
Liked:
1 times
Viewed:
292 times
---
---
---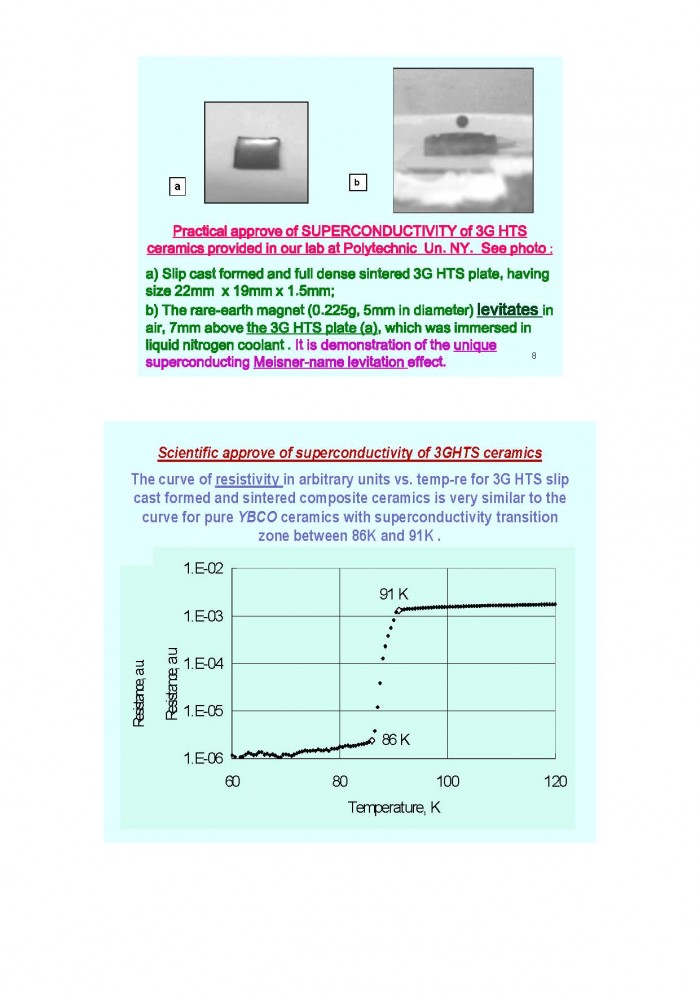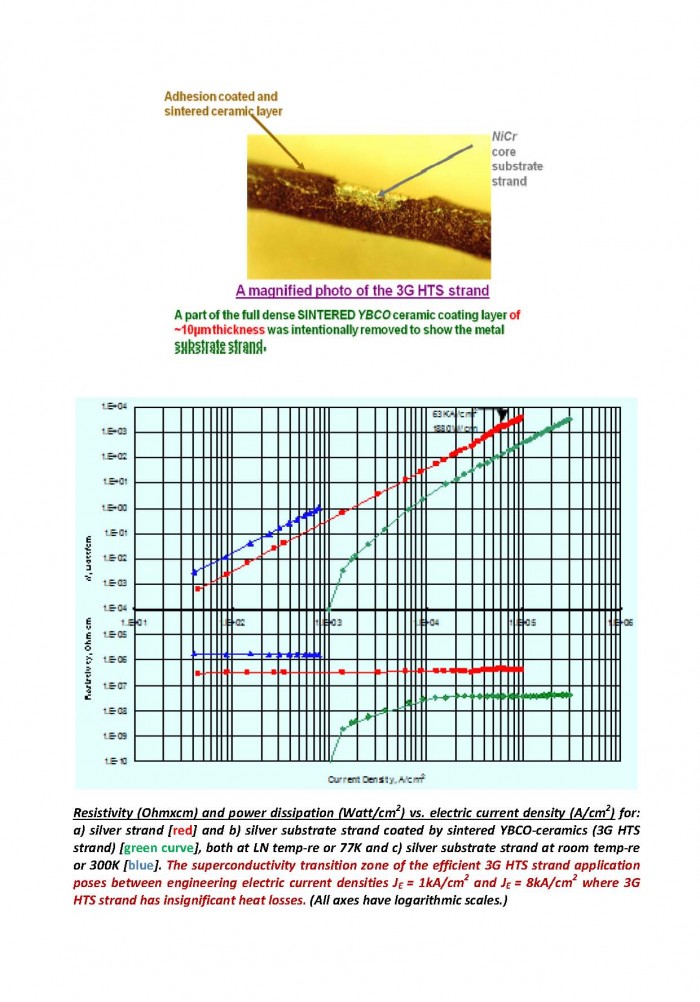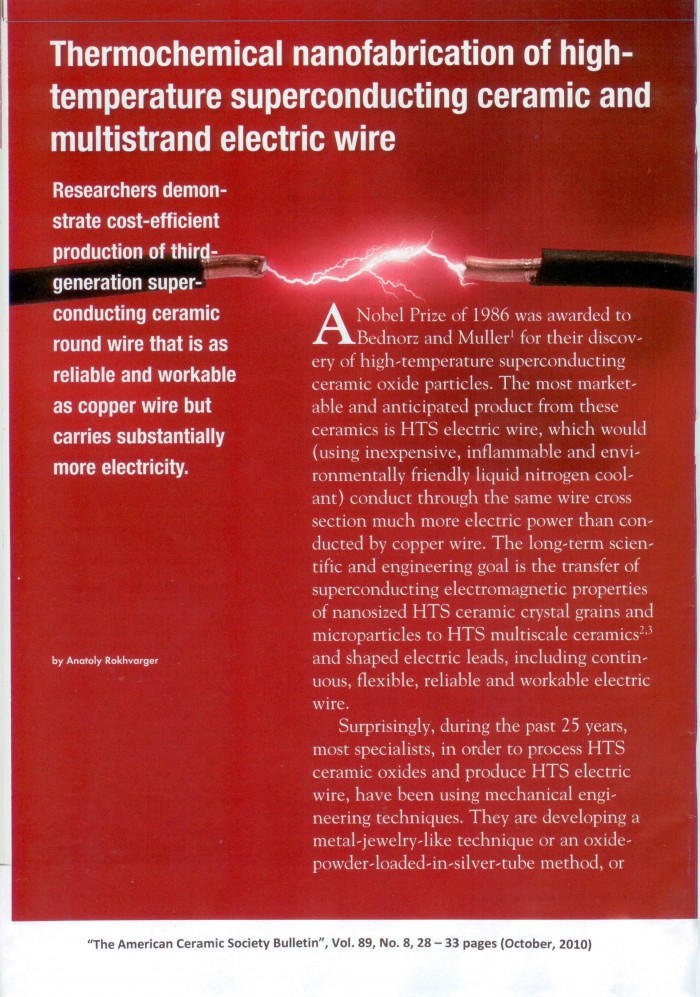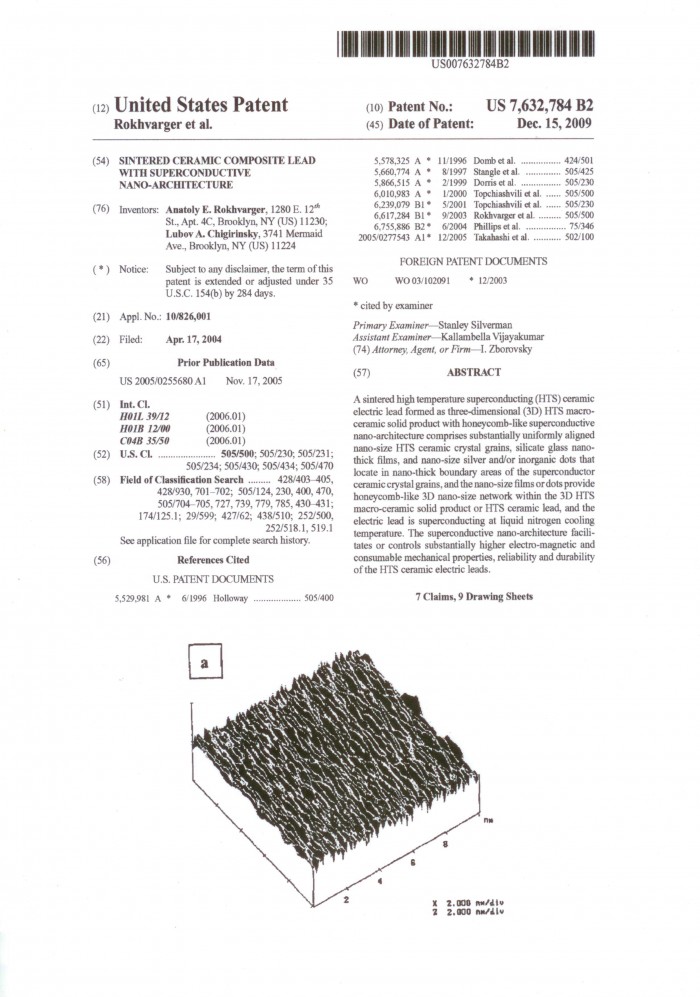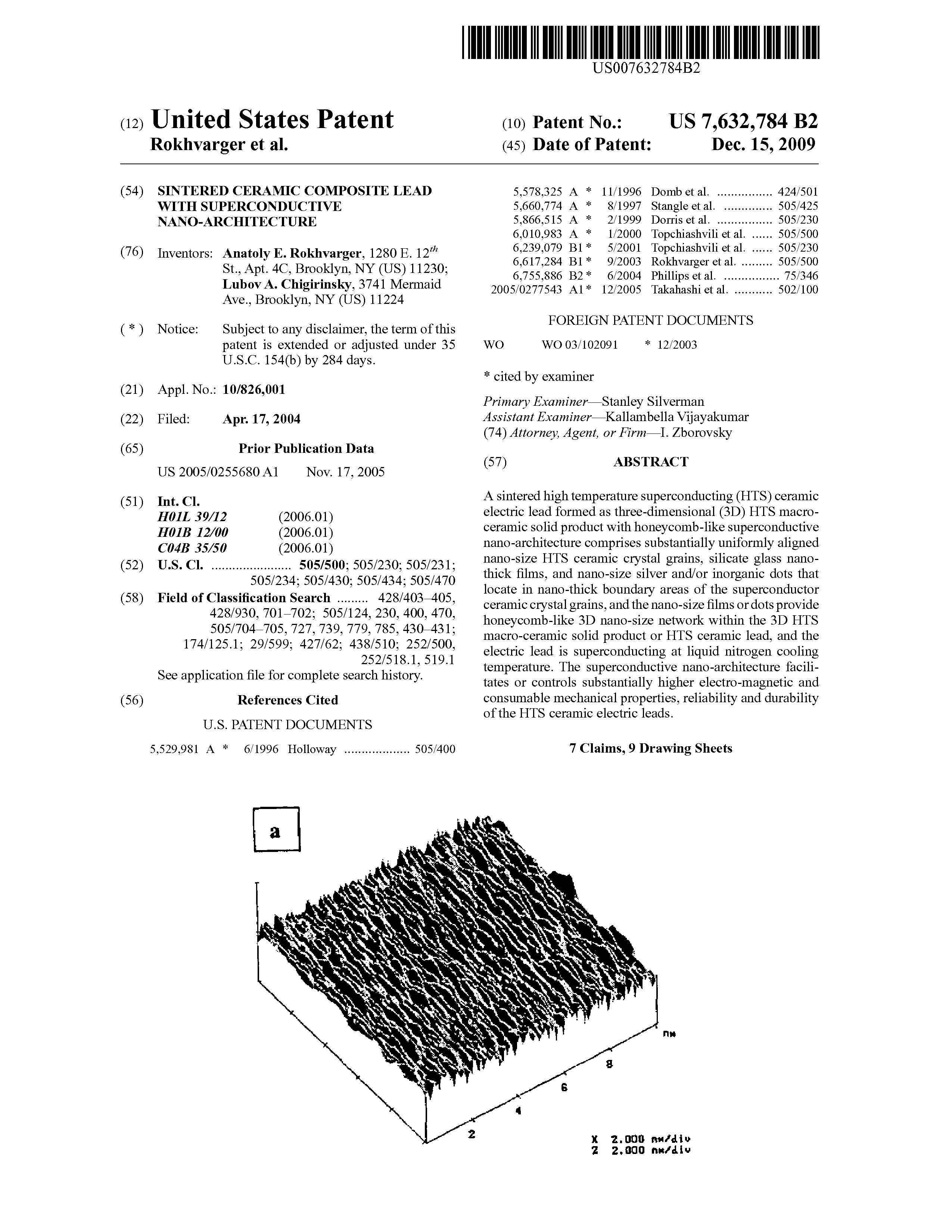 [ Home | List a patent | Manage your account | F.A.Q.|Terms of use]
Copyright PatentAuction.com 2004-2017
Page created at 2018-10-21 2:02:02, Patent Auction Time.