---
Home
List your patent
My account
Help
Support us
---
GARDENING CONTAINER
[Category : - Agriculture- Lawn and Garden- RENEWABLE ENERGY]
[Viewed 581 times]
Provided is a raised-bed gardening container, including a base, a feeding tube, and a cover frame. The base may include a bottom edge; a top rim at least 36 inches above the bottom edge; an exterior sidewall extending between the bottom edge and the top rim; an interior sidewall extending from the top rim to a bottom interior, the interior sidewall and bottom interior defining an interior volume for containing a gardening media, the interior volume having a diameter of greater than approximately four feet; a feeding tube support generally centrally disposed in the base; and a gardener passage extending to the feeding tube support and having a width configured to allow a gardener to walk through the gardener passage to the feeding tube support.
The Ergo Garden (EG) is an elevated garden that is designed to enable seniors, those with physical handicaps, back ailments, walkers or wheelchairs, and for those who want "countertop" gardening. The Ergo Garden (EG) can be built in a variety of shapes and sizes and has a four-inch edge for leaning on or against. This garden will open flower or vegetable gardening to millions of people who want to garden and are unable to bend or kneel at ground level. Please see the architectural drawings attached to appreciate the uniqueness of this design.
The attributes of this garden are:
Use by those with physical limitations: The garden was designed to open gardening to persons with back ailments, those using a walker or a wheel chair, seniors who need some stability when standing, as well as those who just want to garden while standing and avoid bending and kneeling.
Use in any location worldwide: The garden can be located indoors or outdoors, on rooftops, patio decks, apartment balconies; in small backyards, offices, atriums, waiting areas, schools, prisons, rehabilitation facilities, assisted living facilities, retirement communities, occupational therapy clinics, and veterans homes.
.
To accommodate varying weather conditions there are optional covers that can be placed over arches to protect the flowers/vegetables from rain, sun, insects, frost, heat, and foragers. These optional canopies are designed for easy use so gardeners could lift the canopy from any location outside the garden by unclipping a snap and be able to remain in a standing position.
Safe: The garden has a four inch edge so that a person can lean on the edge and reach into the garden with supporting structures that ensure safety; in other words the gardener can reach the entire garden from the edge as all crops are only an arm's length away.
As the garden is counter height it requires no bending or kneeling. The gardener can stand and garden and even those with a walker will be able to reach all sections of the garden from a standing position. In addition, the gardener will be able to compost from a standing position by dropping the compost into a bin and then reaching into the bin to remove the compost and add soil to the top of the garden. Watering will also be safe, as an inlet is at counter height where the gardener can water by placing a hose in the inlet.
Sturdy and long lasting and maintenance free: The construction will be heavy duty polypropylene that will last for years and require no maintenance.
Fit into any space: The garden may be designed so units could be made to fit in square, rectangle, or a circular area.
Dimensions: The height may be from 36 to 48 inches. The side is 4 inches in width so the gardener my lean on the side safely. The garden may be built in a circle, square of rectangle to a width or 48 inches so all plants are no more than 2 feet away. The circular design is so a wheelchair move travel around the circle. The water inlet is located just inside the wall so a hose may be place over the wall to water. One option would be for the V entrance for those who need more access to the middle reducing the length one needed to reach. (see architectural renderings). The compost bin is optional as one would have to be able reach down into the compost bin to access the soil at the bottom as the compost turns to soil.
Easy assembly of the garden: The EG can be put together with minimal effort. The only thing needed will be bags of soil added to the top of the structure.
Mobil: As the unit is lightweight, if the owner decides to move the garden it can be moved by removing the dirt and then pushing or shoving the unit to a new location. The unit can put it in a U-Haul or in the back of pickup truck for moving.
Space Saving: The garden may be constructed to fit into small spaces. For example, a circular model is only 48" wide.
Greenhouse: The growing season can be extended by using the optional covering to provide thermal protection.
Patent US 9,491,910 B2
Flowers or vegetables: The unit can be used to plant vegetables or flowers depending on the needs of the crops as soil depths may range from 8 to 18 inches. Plants with vines may be planted as the vines can extend over and down the sides of the garden.
Environmentally friendly: The EG is designed for water conservation. The garden uses the minimal amount of water necessary to garden. The water is absorbed from under the soil so there is no evaporation of water. When it rains the rainwater will soak down thru the soil and fill the water container under the soil thereby will be a rain harvesting instrument. The EG collects rainwater, preserves rainwater by eliminating evaporation, and the gardener can tell when to water by looking into the water intake and see if more water is needed. Experience has shown the EG only needs to be watered periodically as it has a reservoir that does not evaporate like ground watering does.
Resale: The unit can be resold.
Will not flood: There is an outlet pipe that allows water to drain in the event of a heavy rain that is included for outdoor units.
Space for storage: There is a storage compartment under the garden to store tools or other garden accessories.
Be aesthetically pleasing: The exterior can have a brick appearance or be made of different colors.
Manufacturing and cost: The EG was designed so it could be mass produced reducing the cost for all gardeners.
Proven successful: See attached testimonies.
Summary: The EG allows for flower or vegetable gardens in locations that were never possible, opening gardening to billions of people who did not previously have the space, location or physical ability to garden.
Patent US 9,491,910 B2
References from users attached
Architectural diagrams attached
Occupational Therapist Review
I am an Occupational Therapist with a focus on our Senior Citizens primarily in the Nursing home arena. My heart breaks for these individuals who are slowly losing their quality of life due to various disabilities. These ailments have a wide range rendering some to functional dependency on canes, walkers and even wheelchairs to difficulties with fine motor coordination to visual deficits and to the cognitive impairments in memory and problem solving in daily life skills. With each new life issue comes a decline in overall quality of life and sense of independence.
The Ergo Garden system is a product that addresses these issues to help those experiencing disabilities to regain that sense of control. It can be assembled with multiple aspects of versatility to personalize the garden around the specific physical needs of the individual---from height so the gardener can lean on the side wall or work from a wheelchair with an easy to reach across width to modifications that actually enhance the productivity of the garden plants. Because of its well thought out design, it provides multiple opportunities for these individuals regardless of impairment a chance to regain some of their quality of life.
This system can be used in a wide range of applications from in-home personal use, to rehab centers, to assisted living quarters and many other sites. The garden tools are easily stored in the system and the garden container even has its own water home inlet.
I truly like the idea of being able to afford those with impairments a chance to regain their sense of personal efficacy and self-determination in whatever sphere they find themselves. I highly recommend this gardening system.
Gina Warren OT/L
Dear Rick,
This is an easy letter for me to write and I should have done it sooner.
When I look back on my husband Bob's last few months of his life, I think of the pure joy that your raised garden and irrigation system that you invented, meant to him. I remember looking out the window and seeing him attending his garden which he could not do if it was in the ground. This is a perfect system for many reasons but for the elderly and handicapped, it lets them do what they enjoy and feel useful too. I know because I saw it in my husband's face.
Thanks Rick,
Ginny Little
My father had the privilege of owning a raised vegetable garden made by Rick Schroeder. My dad has since passed away, but I will always remember the joy that it brought him. It was built at a perfect height, so he was able to easily work in the garden without bending over or kneeling down which was hard for him to do. It had an irrigation system that kept the maintenance to a minimum. That helped so much during his failing health. It produced a lot of vegetable with little work on his part. I'm so grateful that my dad had this garden. It meant a lot to him and brought joy to our family also to see how much he enjoyed it.
Robyn Knieriem
---

Patent publications:

US 9491910
Asking price:

Make an offer


Rate this patent

Great invention
Viewed:
581 times
---
---
---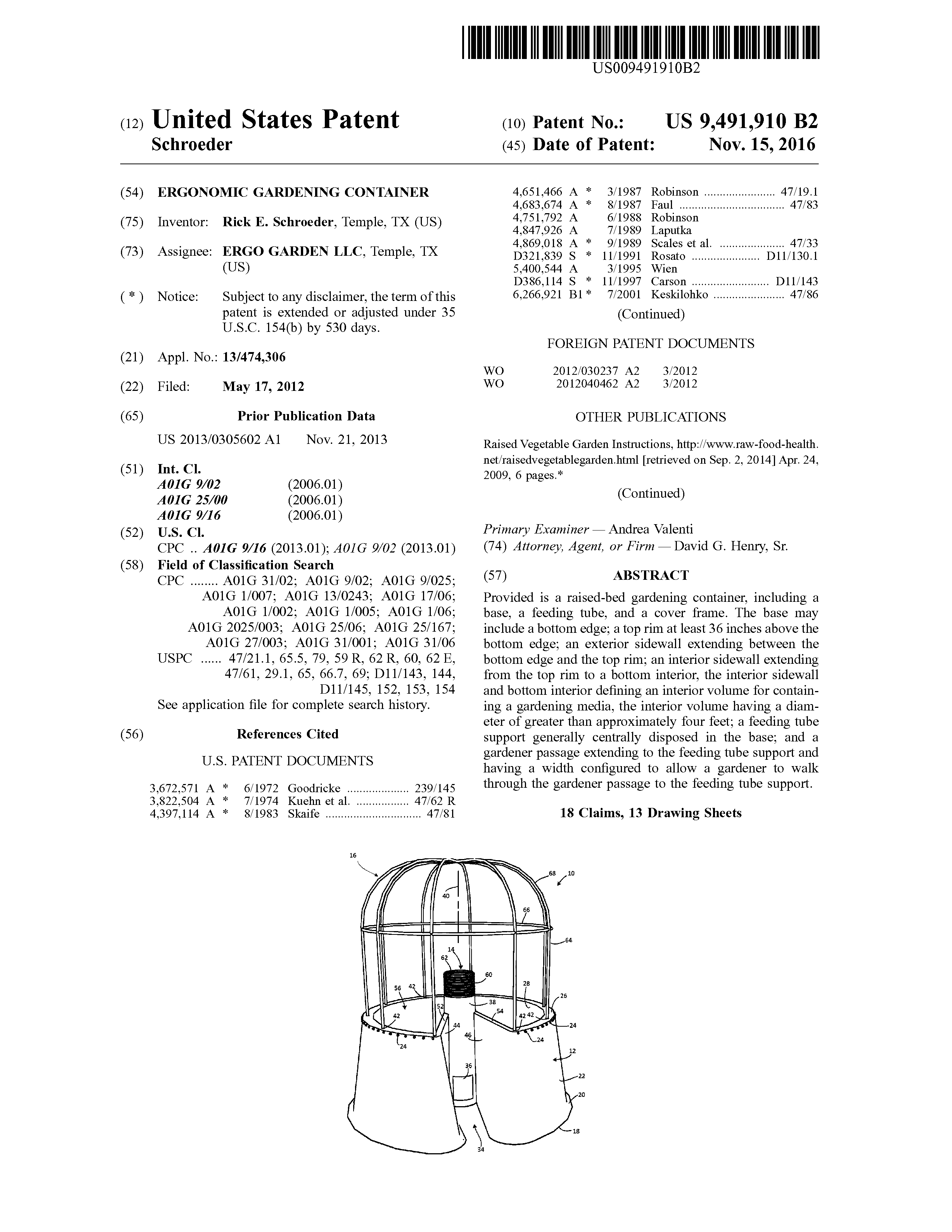 [ Home | List a patent | Manage your account | F.A.Q.|Terms of use | Contact us]
Copyright PatentAuction.com 2004-2017
Page created at 2021-12-05 2:02:57, Patent Auction Time.