---
Home
List your patent
My account
Help
Support us
---
VPower...Sports glove with gripping power
[Category : - Football- Baseball- Ski, snowboarding, skating and skate boarding]
[Viewed 701 times]
A sports glove that increases grip strength to enhance an athlete's performance in any sport. The increase in grip strength generated by the Vpower sports glove of the invention is brought about by sewing the index finger and middle finger together and the ring finger and pinky finger together so that the pairs of fingers act as one finger. Another embodiment of the Vpower glove employs a hook and loop tape arrangement to bind the pairs of fingers together so that they act as one to increase the gripping power of the glove. The Vpower glove forces the wearer to use the power of two fingers on every grip and immediately increases the gripping strength of the wearer without any additional effort and this increase in grip strength is permanent.
Financial information
BUSINESS PLAN
MISSION
VPower Glove patent pending in conjunction with the VPower Glove Marketing plans to manufacturer and distribute a new design concept in sports gloves, with special designs for all major sports that wear a glove to enhance grip. Including football, baseball, golf, hockey, martial arts, cycling, tennis, as well as rehabilitation and military applications.
A. Sell capture 1/10% to 1% of the sports glove market and grow from there.
B. Penetrate all significant markets within the first six months in order to preempt expected competition.
C. Expand glove sales beyond sports gloves and open new market opportunities.
D. License the patent to major companies worldwide
E. Generate gross profit of $15 million by year five.
 II. BACKGROUND
VPower Glove patent pending. is headquartered in Dallas, TX Mr. Ted Gambordella is sole owner and the VPower Glove patent pending.
VPower Glove Marketing is a selling and marketing organization with selling/marketing rights to all products manufactured by the VPower Glove patent pending. VPower Glove Marketing is also headquartered in Dallas, TX and is owned by Ted Gambordella.
The product is a sports glove that is manufactured in India, Pakistan, and China as well as other overseas locations with modifications specially made for each sport. This opens up a new opportunity for revolutionizing the sports glove market. Mr. Ted Gambordella has created the idea for this product, and has a US Patent Pending, as well as Trademark applications for various closure, and design attributes of the product.
The 'VPower Glove " has a newly designed "Patented Pending" to allow the most powerful grip in all situations in a sporting event. In fact, a majority of the sports gloves worn across America and the world are worn to enhance the grip. And this is primarily done by making the surface of the glove "tacky" with leather, rubber, sticky substances, etc. This does not actually increase the grip but only enhances slightly. The Vpower glove actually causes the wearer to utilize the strength of 2 fingers as opposed to one finger in all aspects of playing the sport and requires no additional training or conditions for full effectiveness.
III. THE PRODUCT
The Vpower sports glove has shown to be of significant value for all athletes who wear gloves in sports to enhance their gripping power. Our independent testing has shown 5 conclusive things.
1. The Vpower glove always gives the optimum grip in all situations. You won't be trying to your equipment with a poor grip, or hold your equipment with a poor grip. When you grip using the Vpower glove you always get 100% gripping strength.
2. The Vpower glove retains your grip longer and stronger than traditional sports gloves. There is no good in getting a strong grip only to lose it with the slightest of movement or actions of the opponent or club. Testing has shown that the Vpower glove can give up to 690% more grip retaining power than traditional gloves.
3. The Vpower glove help prevent injuries to the joints. Your team and players should have significantly less dislocated fingers and play much safer.
4. The Vpower glove retains heat significantly better than traditional cold weather gloves, and only the Vpower glove offer full mobility and use of the fingers while retaining the heat. Up to 12 degrees more heat retention using the Vpower glove, making it the ultimate cold weather glove.
5. The Vpower glove shows significant advantages for people suffering from arthritis and recovering from hand injuries. Over 22 million people suffer from arthritis making it very difficult to get a strong grip and to retain the strong grip. The Vpower gloves gives them their strongest gripping power in every situation and also assures the grip will remain strong. It also will aid people who are recovering from hand injuries and strokes, etc. By allowing them to always have their strongest grip and to maintain it longer.
6. We can make the glove out of any material, any style, any quality. What we have is the "patent" that  makes any glove better.  
7. Our ultimate goal is to license to the world's largest glove manufacturers, who will in turn use our patent on their gloves and pay a royalty. Just like 3M gets a royalty on cool max on millions of gloves from hundreds of manufacturers. 
8. We can produce any glove, any quality, any size, any look they want...and give it VPower.   I will definitely include that fact in my new material. 
What we like to do with some people who are "pro's" and have expressed and interest is to get them to send a pair of the gloves they actually wear...then we will sew the patent into the gloves and thus they will never have an "objection" about quality, looks, feel, durability, because it is the actual glove they are already wearing...just make better with the VPower patent
TESTING RESULTS:
Independent testing results conclusively prove that the Vpower glove can give up to 80% increase on grip holding and maintaining gripping power after securing your grip, and this is the reason you where a glove.. to keep and maintain your grip once it has been established.
V-Grip Testing Results
Prepared by Dr. Nathan Huntoon
Director, Innovation Gymnasium
Southern Methodist University
SMU Skunk Works Program
7/5/2011
Grip Maintenance
Table 4 shows the results of the grip maintenance test. Only four test results are present in this table. This is due to the fact that the remaining three volunteers had grips so strong their fingers could not be pulled off using the force gauge. The test results for these users were thus thrown out. In addition, the top two results show it took 50 lbs. of force to remove the finger while wearing the V-Glove. This indicates their fingers were unable to be pulled off the bat while wearing the V-Glove. These two data points were kept though as a demonstration that the V-Grip improved grip maintenance.
Besides the raw data, the difference between the V-Grip glove and the traditional glove is calculated. These differences are then converted into a percentage of improvement making a comparison between different users possible. Column 4 shows this improvement and it can be seen that there is a definite improvement between the V-Grip glove and the traditional glove. By tying the 3 & 4 fingers together you can dramatically increase your ability to keep a grip when it is being pulled apart.
Conclusions
Based on the data taken, and the results shown I feel there is no doubt that the V-Grip concept is sound. While the overall grip strength of someone wearing the glove will be reduced compared to their bare hand, their ability to keep a solid grip even under adverse conditions is dramatically improved. I feel this will be useful across several sports, from football to baseball to tennis to even rodeo.
Future Work
I suggest that further testing be done on the V-Grip gloves to better prove the concept. One of the largest issues that arose during the present study was inconsistency in data result due to inconsistent grips on the dynamometer. A sports science lab should have better equipment that will enable more accurate and repeatable results.
IN addition, there are other tests that can be done do showcase the effects of the V-Grip glove over a traditional glove. One interesting test would be testing to see if a V-Grip glove can reduce the chance of breaking fingers. By trying the fingers together it should take more force to break a joint, this would greatly reduce injuries for sports such as football and horse back riding.
Heat Retention Testing......We are pleased to announce that the heat retention testing effectiveness of the Vpower glove, showing up to 10 Degrees more heat retention than similar cold weather gloves. This can be a significant value to the millions of people who wear gloves in cold weather sports and in cold weather activities. They will get significant increase in heat retention in the fingers and not lose any dexterity. The Vpower glove is the first winter glove that gives cold weather athletes this advantage.
IV. THE MARKET
We intend to market the Vpower glove to all people and companies that wear gloves.
There is a tremendous market in the corporate and business world. Workers who wear gloves performing their jobs. UPS, Fed X, farm workers, industrial workers, plant workers, construction, labor. The market is huge and millions of people wear gloves doing their daily work. The VPower glove gives them the extra gripping power, grip retention, hand protection, and warmth they need to do their jobs better, safer and longer.
We also see tremendous potential for Military use. Soldiers who have to carry heavy equipment, and weapons. Cold weather protection and finger protection are very valuable to keep the soldier going and protected. We will offer special Vpower gloves that allow for the "trigger finger" to be functional and at the same time allowing for the Vpower to make the glove better.
Injury Prevention and rehabilitation are important sales markets. And we intend to do extensive research with the Vpower glove and the arthritis foundation. With over 6 million people going to the hospital each year with finger injuries, this is a huge potential market.
We can make the glove out of any material, any style, any quality. What we have is the "patent" that  makes any glove better.  
Our ultimate goal is to license to the world's largest glove manufacturers, who will in turn use our patent on their gloves and pay a royalty. Just like 3M gets a royalty on cool max on millions of gloves from hundreds of manufacturers. 
We can produce any glove, any quality, any size, any look they want...and give it VPower.   I will definitely include that fact in my new material. 
What we do with some people who are "pro's" and have expressed and interest is to get them to send a pair of the gloves they actually wear...then we will sew the patent into the gloves and thus they will never have an "objection" about quality, looks, feel, durability, because it is the actual glove they are already wearing...just make better with the VPower patent.
There are approximately 140,000,000 people playing sports that wear glove in the United States our initial goal is to achieve a 1% market share.
Numbers from National Sporting Goods Association
Link
This chart includes participation by people 7 Years and older..not just 45-54 years old.
Injuries are a significant problem in sports and hand injures are a major concern. The Vpower glove has can help to reduce the chances of injuries to the fingers, with it patented pending design to protect the fingers. That means your players can play harder, longer and safer.
The Vpower glove should be of significant value in reducing injuries to the fingers and the applications and savings for the workplace is enormous.
Endorsement from Dr. Boyd Lyles about the Vpower glove and its potential for preventing injuries.
Link
Hand, Finger Nail and Tip Injuries 
Author: Bradon J Wilhelmi, MD; Chief Editor: Joseph A Molnar, MD, PhD, FACS   more...  
Link
Updated: Jun 1, 2009  
Here are some links to videos of Ted Gambordella using the Vpower glove for rehabilitation for his finger that was torn off in motorcycle wreck.
Day 2 rehabilitation
Link
Day 5 rehabilitation
Link
30 days later
Link
The market is growing at an approximate rate of 13% per year.
The Internet has allowed for tremendous growth of sports sales and the advent of the sports Channel gives exciting new possibilities.
Thus far, VPower Glove Marketing has defined six distinct markets for sports gloves:
A. SPORTS TEAMS
All sports teams that wear gloves are target customers for special VPower Gloves. Football, baseball, tennis, golf, cycling, tennis and individual sports wear gloves. Each of these sports has a specific glove and our patent allows us to modify the gloves for each sport to assure the best glove that will allow for the best grip in any specific sport. Youth sports will be a huge market and should provide substantial income as parents and coaches are always looking for ways to improve their players performance, safety and win more games.
B. FUND RAISING ORGANIZATIONS
Every year there are thousands of charity sports tournaments throughout the United States. Organizations such as the Fellowship of Christian Athletes, Muscular Dystrophy, and Alzheimer's Foundation, and other local, region and national associations, put on tournaments to raise charity money. These tournaments usually charge an entry fee of $100 to $500 or more, per team. They provide green fees, carts, refreshments, and almost always, a gift package for the player. For years this gift package has included such items as hats, balls, shirts, shoes, etc. The VPower Glove will be perceived as an excellent, advertising medium for the charity. In addition, virtually all private country clubs sponsor an annual Member-Guest tournament and the VPower Glove will be an excellent giveaway for this event.
C. SPORTING GOOD STORES & RETAIL OUTLETS
Millions of gloves are sold each year through sporting good stores such as Supreme Sports, Nevada Bob's and Sports Authority. Generally VPower Gloves such as the American Flag, State Flag, N.F.L., College, and even High School VPower Gloves will be an excellent consumer item that retailers can use to generate more profit, create customer loyalty, and increase sales on other products.
D. SPECIAL EVENTS/CONCESSIONS
Events such as the Super Bowl, the Olympics, all major pro sports tournaments, all football games, and virtually any location that provides concessions designed to currently sell logo products, can add the VPower Glove to their list of items. VPower Glove Marketing believes these concessions will more than welcome a new, relatively inexpensive, logo product. We believe that virtually every Sports Franchise, College team, and special event operation will be a viable target for selling the VPower Glove to customers.
Other concessions include stores and shops that currently sell logo products to tourists, These include locations such as Disneyland, Sea World and Las Vegas, etc.
F. PRO SHOPS
Our experience thus far has been that pro shops will however sell this product as a specialty item, and they will most certainly recommend the product to all of the corporations that plan their tournaments through the local pro.
Selected pro shops at resort locations should all be interested in selling a "logo" glove that helps advertise the resort. Locations such as P.G.A. West, Pebble Beach, Myrtle Beach, Hilton Head, etc. all do a large amount of logo business and are large enough to not succumb to potential manufacturer pressure.
G. MAIL ORDER CATALOGS and MAGAZINES
The sports industry, like other industries has several large mail order catalog companies that send their catalog to virtually every private club member. Country clubs sell this membership listing to these companies, and the VPower Glove should make a very appealing addition to their product offering.
These six markets each provide their own unique opportunity and must be addressed separately in order to assure the most effective market penetration.
H. THE INTERNET
We have saved the best avenue for last. The Internet is changing the face of sports and the way athletic glove wearers has access to purchase sports products. Using the power of the Internet we will be able to put the glove in front of millions of athletic glove wearers 24/7 and to change our advertising and content on a daily bases. There are hundreds of sports resellers on the Internet and we intend to form relationships with them. In addition we will be selling direct to the customers and corporations through our own sites, auction sites, and other forms of e-commerce.
I. SPORTS CHANNELS
The advent of the Sports Channels have opened exciting new possibilities for sales of sports products. The channel has tremendous viewing of athletic glove wearers Only, so all leads are extremely qualified and understand sports and sports gloves. We plan on making an Infomercial and getting a "star" to wear the glove and promote it on the infomercial.
V. SALES PLAN
VPower Glove patent pending. has a patent  on their Velcro closure, allowing for smooth logo's and has trademark applications for a wide variety of logo designs, the VPower Glove Marketing is basing its sales strategy on the premise that there will be a flood of competition entering the market within the next 3 - 12 months.
The Ultimate Goal is to license the Patent to major glove manufactures around the world and receive royalties. This could mean millions of dollars in profits, as over 150 million sports gloves are sold world wide.
There are three possible means of selling identified by VPower Glove MARKETING
1. INDEPENDENT DISTRIBUTORS : a dedicated sales force of independent distributors who will market the VPower Glove in specific protected areas across the US. These distributors will have a vested interest in the glove and will work full and part time to sell gloves and develop the market in their respective areas.
2. MANUFACTURER/PREMIUM SALES REP. FIRMS - VPower Glove Marketing can set up a network of existing Premium companies that currently call on manufacturers and help those manufacturers develop promotions, giveaways, sales prizes, ad campaigns, etc. Distributors will have the option to set up these marketing firms in their areas.
3. INTERNET MARKETING we intend to develop a significant Internet presence and to aggressively market the glove there. Setting up our own E-commerce sites as well as forming relationships with other sports and E-commerce sites. All distributors will have a direct participation in this marketing area. It is our intention to be a fully developed Internet site that will allow for distributors to sell product across America and the World.
4. Direct Mail Marketing: We intend to do a large direct mail marketing campaign to sports courses and to corporations as well as individual athletic glove wearers. The market is enormous and we feel that the gloves beauty and quality will appeal to all parties.
5. Email Marketing: The Internet allows for us to launch large email campaigns to sports courses, corporations, tournaments and charity events.
6. Cable Television Marketing: We intend to use the various Sports Channels for an infomercials to sell the glove.
7. Pro Sports Celebrities. We have contacted several large sports agencies and they have shown significant interest in having their athletes wear and endorse the Vpower glove. We plan on having Pro athletes from all the major sports endorsing and using the Vpower glove.
We believe that VPower Glove patent pending has major advantages today vs. competition; It is only sports glove that forces the use of 2 fingers on every grip to allow for full gripping power in every situation. Undoubtedly, there will be many other companies attempting to copy or emulate the VPower Glove patent pending concept, and we believe strongly that entering the market first and fast, will be of utmost importance in order to assure long term relationships, and lock up certain markets. We also believe our Patent will preclude most significant competition, and we intend to aggressively defend our patent.
As a result, we have chosen to use a combination of marketing approaches' simultaneously, in order to address all potential customers in the shortest time possible. Our distributors will directly be responsible for implementing marketing in their area: Some ideas we propose are:
First of all we plan to negotiate agreements with approximately 50 manufacturer/premium promotion companies to address the corporate customer. We estimate that we can have over 500 reps calling on an average of 7 - 10 corporate customers within the next 1 - 6 months. This would give us a marketing presence with over 4,000 corporations in the short term.
In addition, Distributors will call directly on several of the top corporate entities known to be especially logo or sports oriented. This target list will include such companies as Nike, Adidas, Foot Joy. (See appendix for list of targets.)
Secondly, in order to meet our current pricing/profit objectives, it will be necessary to contact the largest retail sporting good outlets on a direct basis at first. To add a level of manufacturer rep firms would cause the product to be price prohibitive to the customer. After volume results in lower manufacturing costs, rep firms will be employed to contact the large number of smaller retailers. It is estimated that Distributors can contact 30 of the top retailer sporting good stores on a direct basis within the next 1 - 5 months.
The third market which is fund raising organizations, will be contacted by a combination of the Premium rep firms, local pro shops who run the tournaments, and on a direct basis by Distributors where volume warrants.
The fourth market which is pro shops will be contacted in several ways also:
1. Direct mail and sampling to each club
2. Advertising in Sports Journals and Magazines
3. Convention attendance at national and regional sports conventions.
4. Direct contact to the largest sports clubs (see appendix.)
As volume permits, manufacturer rep firms will be used to further penetrate the market and maintain accounts.
The fifth market is the youth sports team market. As licensing rights for sports franchises are developed, VPower Glove Marketing will employ direct sales personnel to contact sports teams and youth sports organizations owners. It is estimated that there are approximately 200 large youth sports associations and dozens of professional sports teams as well as colleges and high schools. .
The sixth market will be the Internet. Which we will begin to aggressively pursue with our own E-commerce site as well as relationships with major E-commerce players in the sports market. We have contacted several firms for full development of the site, and have received very positive feedback.
The seventh market will be the sports Channel and other television networks that have significant appeal to athletic glove wearers.
VI. PRICING
There will be a series of customer pricing available depending on the type of customer and, the volume ordered.
At this moment, it costs VPower Glove patent pending. Approximately $ 8.50 per set of gloves delivered to Dallas, Texas. The suggested MSRP is $29.94 to $34.95. Our objective will be to reduce the cost to VPower Glove patent pending. down to $5.00 range with volume. This would allow us to price our quality VPower Glove below the standard gloves of other manufactures. In order for them to then meet our price, they would have to lower their profit on existing volume. They will not do this. 
SUMMARY
VPower Glove Marketing believes that there is an outstanding opportunity to create large volume sales over the next five years on the VPower Glove PRODUCTS. It is imperative that we enter the market first, with a high quality product, and gain immediate exposure before competition can react.
VPower Glove patent pending. has the responsibility to maintain its patent rights, Trademarks, and develop immediate approval for licensing rights to well known logo's including all sports franchises. They must work towards bringing down the cost of product, and help create industry awareness on the product.
VPower Glove Marketing has the responsibility to penetrate all potential markets, and grow sales to meet the objectives of the manufacturer.
Our long-range plans include taking the VPower Glove patent pending. public in order to raise capital for further expansion.
 This is an important document that should be read in its entirety. If you have any doubts as to how to deal with it, you should consult your legal, financial or other professional adviser.  This communication does not constitute an offer to sell or the solicitation of an offer to buy any securities. The information contained herein is not intended to replace any information or consultation provided by a professional financial adviser and does not constitute a recommendation for the purchase or sale of any security or other financial instrument or to adopt an investment strategy. Statements contained in this website may contain forward-looking statements within the meaning of the U.S. securities laws that are based on management's current outlook, expectations, estimates and projections. Words such as "anticipates," "believes," "continues," "could," "designed," "effect," "estimates", "evaluates," "expects," "forecasts," "goal," "initiative," "intends," "outlook," "plans," "potential," "project," "pursue," "seek," "should," "target," when," "would," variations of such words and similar expressions are intended to identify such forward-looking statements. Forward-looking statements are subject to risks and uncertainties, many of which are difficult to predict and generally beyond our control, that could cause actual results to differ materially from those expressed, projected or implied in or by the forward-looking statements, including,, but not limited to the ability of V Power Glove to obtain a patent, the suitability of V Power Glove products for their intended purpose or the ability to develop certain markets. Any subsequent written or oral forward-looking statements made by us or any person acting on our behalf are qualified in their entirety by the cautionary statements and factors contained or referred to in this section. We do not intend or undertake any obligation to update any forward-looking statements to reflect events or circumstances after the date of this document or the date on which any subsequent forward-looking statement is made or to reflect the occurrence of unanticipated events. 
---

Patent publications:

US 9055774
Asking price:

Make an offer


Rate this patent

Great invention
Viewed:
701 times
---
---
---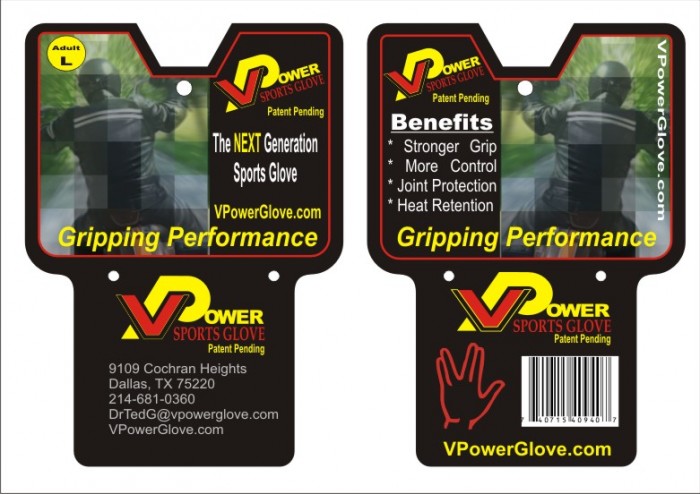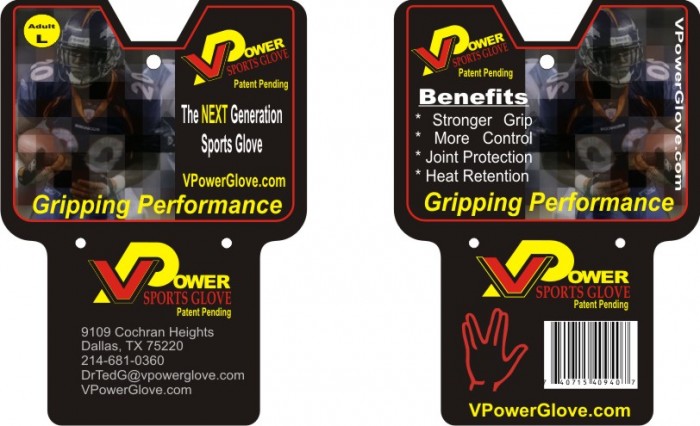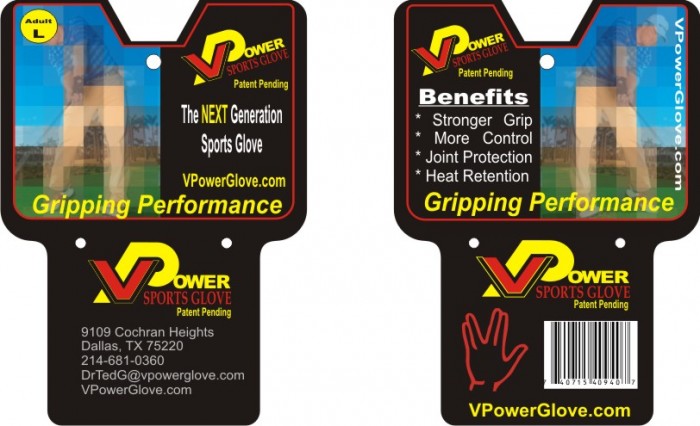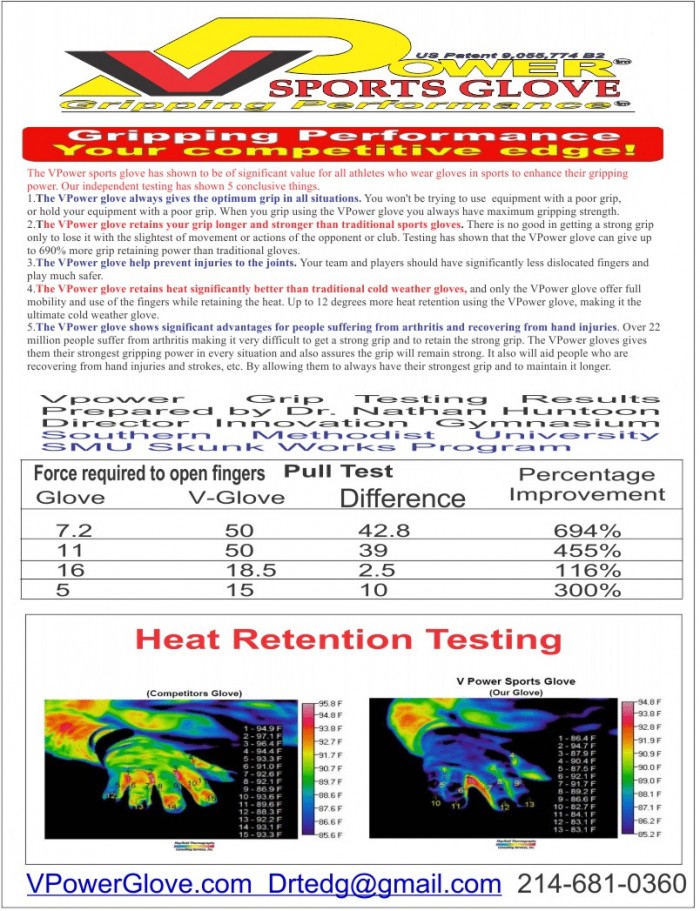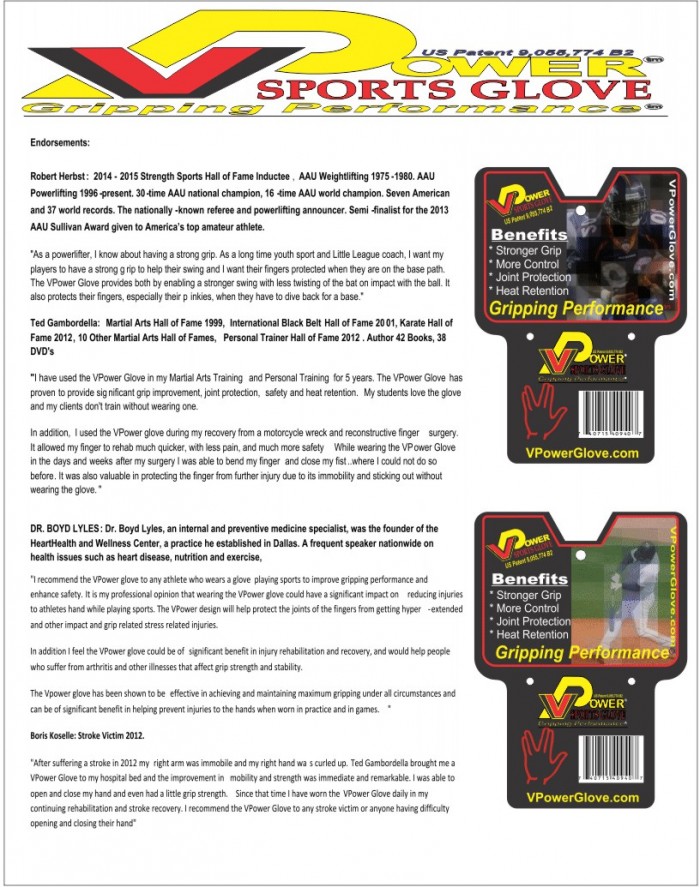 [ Home | List a patent | Manage your account | F.A.Q.|Terms of use | Contact us]
Copyright PatentAuction.com 2004-2017
Page created at 2023-03-30 6:47:23, Patent Auction Time.